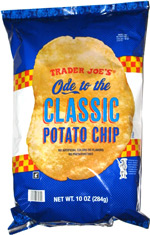 The day after we moved to Chicago we bought a little shopping cart to take around the city for grocery shopping. I never saw people pushing these carts around cities before I moved to Chicago. But now I see a ton of them every day.
Our first stop for groceries was Trader Joe's (of course). I'm happy to say that Eric loves Trader Joe's as much as I do! His first TJ's experience was when we went to one last summer. I first went when I was on vacation with my family in Chicago one year. I think we stopped in to Trader Joe's at least a few times on that vacation.
I love, love that we're close to one now. We spent a good hour there on our first trip. And we probably spent a good hour in line to check out; I'm going to try and avoid going on a Sunday afternoon if I can.
The goods.
Vanilla coconut milk, wild blueberries, frozen Indian food, pears, enchiladas, honey apple butter, Greek yogurt, arugula-spinach blend, and orange sparkling water. All of which were so darn good. Especially the yogurt. I didn't realize it was full fat Greek yogurt when I bought it. Once you go full fat Greek yogurt, you never go back.
I'm still debating whether or not I liked this pizza. It was a little soggy, but I think if I had baked it longer it would've been perfect.
Eric's new favorite Trader Joe's favorites are the orange chicken, mini crispy chocolate chip cookies, white cheddar puff corn, and the spicy chili flour tortillas.
So now here's the big question: what are your favorite Trader Joe's items? What do you always buy? Are there any seasonal items we should look for?