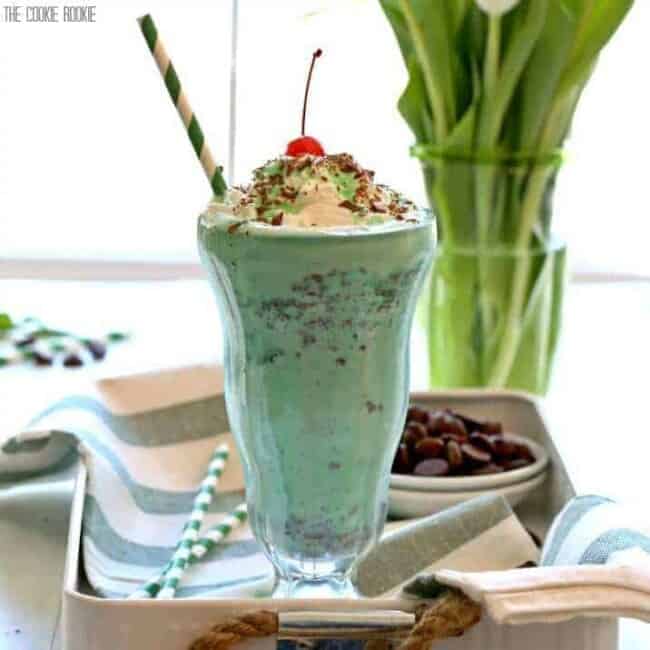 Happy St. Patrick's Day! I hope you are all doing well, and having a good weekend. Sorry about any domain confusion I might have caused. I didn't know I was switching domains until about a minute before I did it. You should still be able to use the old address as well.
http://www.visionsofsugarplum.com or http://www.sugarplumblog.net. Either address should work; it's the same blog. I like sugarplumblog.net because it's shorter and easier. I hope everything is back to normal… the switch takes a few days for everything to straighten out. If you have problems finding a recipe, please email me and I'll help.
Anyway, let's get to the fun stuff. And by fun, I mean Shamrock Shakes. I had one! I finally had my first Shamrock Shake! Eric took me to McDonalds (always the romantic! Just kidding, it was my idea) and I ordered a Shamrock Shake and some Chicken McBites. I keep wanting to call them Chicken Macdoodles. The chicken was gross; I felt sick after eating it. I was in one of those junk food moods where you want to eat anything and everything that's greasy and bad for you.
The shake, delicious. I liked it! I know some people in the comments section said they liked the shake and some people said it tasted like toothpaste.
I was expecting it to be gross, but it really wasn't bad… it was interesting. It tasted like mint and lime sherbet, and neither flavor was very strong. Mint and lime doesn't sound like it goes together. Somehow it does. I would probably order another one in the future. Maybe once a year. Eric liked it, too! "Here, pose with the shake and let me take a picture!" *Shoves Shamrock Shake in Eric's hand.*
I made my own mint milkshake, but I didn't use any lime flavoring. I used vanilla ice cream, milk, peppermint flavoring, and Thin Mints.
I think the Girl Scout cookie boxes need to be updated. Pretty sure they're still the same from when I was a kid. Maybe not. Why am I being snarky? I love Girl Scout Cookies! Somebody slap me.
Here we have the blended milkshake, served with whipped cream and a Thin Mint. I know you probably don't need a recipe for a milkshake, but I needed an excuse to make and drink milkshakes.
If you're looking for a REAL recipe, please check out my post on Davidson's Safest Choice Pasteurized Eggs blog! I made a Chocolate Stout Cake with White Chocolate Cream Cheese Frosting. Amaaazing!
Thin Mint Shamrock Shake (For one)
3/4 cup vanilla ice cream
1/4 cup milk
1/4 teaspoon green mint extract
1 drop green food coloring
4 Thin Mints (or more)
In a blender, combine ice cream, milk, mint extract, and food coloring; blend until well combined. Add Thin Mints and blend for just about 2 seconds so they're still chunky. Pour into a frosted glass and top with whipped cream.